Before I started blogging, I had visited a lot of blogs and thought I knew what I was doing. It turned out that I really didn't know much at all. It has certainly been a learning experience. My one year blogoversary is coming up towards the end of the summer. I can't believe I have only been blogging for one year, it seems like I have been blogging longer.
I decided to dedicate today's post to how to gain followers (since it is Friday and blog hop day). Having followers does not mean you will necessarily gain repeat commenters or a loyal readership. A loyal readership is what you should strive for! For that to happen, you need to comment on other blogs and to develop relationships with other bloggers. You want readers to come back frequently. It is all about making connections. Connections to what you write, connections to you personally, connections, connections, connections.
Also, keep in mind I am only writing from my experiences. I am no expert on blogging. I am still constantly learning every day.
These are tips to get people to your blog. What happens after that is up to you!
Write consistently
Put your best foot forward by writing good content. Also, post frequently. If you don't post frequently, at least try to post on a consistent schedule (such as certain days of the week). You want people to come back and visit. Also, make sure you proofread what you write and think before you hit the publish button (guilty as charged for those of you who stumbled upon my wacky award post last week where I hit publish instead of save since I was nowhere near done writing it).
Blog Hops
Today is Follow Me Friday, New Friend Friday, Friday Follow, and
Fun Follow Friday
. If you are interested in finding new blogs to read, making connections with other bloggers, or gaining new followers, check out these blog hops.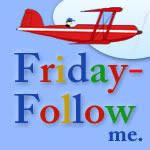 Some blog hops may request that you link to a specific post where you mention the blog hop and others do not. These are great ways to gain visibility for your blog. Read the directions first at the host blog so you don't get deleted for not playing according to the rules. Just visit the links to learn more about each of the individual blog hops. Try to link up first thing in the morning for maximum exposure.
Visit other blogs and follow them
It is good blogging etiquette to follow someone who follows you. If you are interested in gaining new followers, follow other blogs and comment. Make connections.
Have a variety of ways for people to follow you
People love options. Can people follow you on Google Friend Connect, RSS, get updates via email, twitter, or facebook?
Make sure your blog is listed on your Blogger profile
Check the settings on your blogger profile if you are on Blogger. This is really important if you are just starting out. Click on dashboard. Click on profile. Make sure your blog is listed in case someone clicks on your profile and wants to visit you.
Join online forums or communities of bloggers
Mom Bloggers Club
is a wonderful resource when it comes to learning more about blogging or meeting other bloggers. Be active. Some good groups to join to gain followers are Friends Following Friends and Google Friend Connect Followers. Follow blogs that interest you or that may have some things in common with your blog.
Promote your blog
Tell people about your blog including family and friends (unless you want to stay anonymous). Include your blog url under your signature on your emails, espceially if you have a business. Learn about SEO (search engine optimization). There are key words that you may use in your blog posts that may help drive more readers to your blog through search engines. You may choose to advertise on an established blog (you may be able to do this for a few dollars each month).
Giveaways
This is a way to gain followers but keep in mind that they may only be following in order to win a giveaway. Where can you get items to give away?
Business2Blogger
and
The Product Review Place
are two places that connect businesses to bloggers. There are blogs that offer giveaway linkys on certain days where you can link up your giveaways. This will bring people to your blog to enter the giveaways.
Update 6/5/10: I should have mentioned MyBlogSpark to which has a lot of great opportunities for bloggers (including those just starting out).