It's Thursday and since I am doing a week of meme's I decided to do Mama Kat's Writer's Workshop.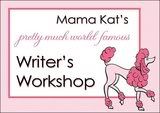 Before I was a mom...
I spent money on clothes and shoes for me (without guilt).
I had a clean house.
I had 130 children that I saw each day (except weekends and summers, oh and holidays). Nice, right?
I could read a book in one sitting.
I used to sleep like the dead. I once slept through a 4 alarm fire a block from my apartment.
We would decide to go away for the weekend on Friday night.
I would cook fancy schmancy meals.
I loved planting flowers. (Emily likes to pick flowers, roots and all.)
The only games I played were Scrabble, poker, and Monopoly.


...something was missing.