Today is Friday. For my last day of playing a MEME a day this week, I am participating in Feel Good Friday over at The Girl Next Door Grows Up.
What made me feel good this week?
1 Visiting my grandparents and having my daughters get to know the amazing people that they are. I am blessed to still have them here so they can share their memories with the girls and make new memories with them.
2 Having a nice lady in the grocery store see me picking up baby food and handing me a coupon that she wasn't going to use. There is something touching about small kindnesses from strangers.
3 Another mom laughing when she strolled down the baby food aisle (same day, same place) seeing me trying to entertain the girls. She was me a year ago with a two year old in her cart and the infant in the carrier in the front, both of whom were well-behaved. Since I became a mom I can't tell you the number of times I have found myself conversing and bonding with complete strangers (who themselves are parents).We started conversing in the middle of the aisle.
4 I got to spend some quality time with my husband when he got home early the one day. We took in part of a baseball game, munched on soft pretzels (Carbs? What are they?), and cheered on our team (who won which made the night even sweeter).
5 Watching Emily try to ride her tricycle or her car. Her determination and focus is endearing.
6 Participating in a meme a day this week. I got to read several new blogs and make new bloggy friends.
___________________________________________________________________________
Don't forget that today is blog hop Friday, Want to play along? Click on one of the buttons below.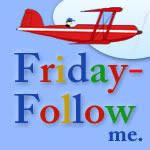 Interested in doing memes on your blog but can't find one?
Our Mommyhood
, the
List Your Meme
group at Mom Bloggers Club, and
I Blame My Mother
have comprehensive lists of memes or carnivals to particpate in. Go check them out.